Digital Archive Workshop: Archival Preservation and Digital Collection Management with Cassandra Tavukciyan on April 22 at 7pm EST via Zoom.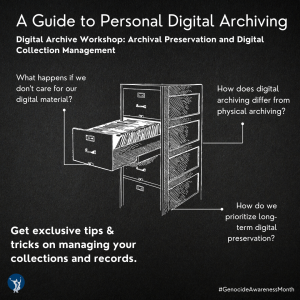 When we think of archives we often think of traditional sources of information, books, photographs, letters, etc. When cared for, these items can survive for hundreds of years, but how do we show a similar level of care to our digital material?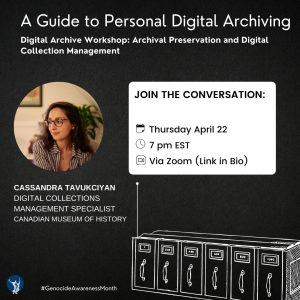 This workshop will be hosted by Cassandra Tavukciyan, a Digital Collections Management Specialist at the Canadian Museum of History. Cassandra will give an introduction to the importance of archival preservation, digital collection management, and caring for digital material, as well as tips and tricks on how you can manage your collections and records, digitally.
We invite you to register for this webinar here: https://zoom.us/webinar/register/WN_njJqIQvuQF-tNtIv76gxjg