The Zoryan Institute is pleased to announce the timely publication of Genocide Studies International 13.1, a special issue on "Genocide and the Kurds." This publication corresponds with a resurgence of the Islamic State (IS) in northern Syria and Turkey's continuing incursions into Syrian territory held by Kurdish and allied forces.
This special issue was co-edited by GSI co-editor and Zoryan Institute Board Member, Elisa von Joeden-Forgey, Dr. Marscha Raticoff Grossman Associate Professor of Holocaust and Genocide Studies at Stockton University, and Thomas McGee, PhD candidate at the Peter McMullin Centre on Statelessness at Melbourne Law School. The co-editors state:
"We hope that this special issue will help scholars and the public better understand the deep roots of genocide and human rights abuses being perpetrated by state and non-state actors in the region, with a view to contributing to the inclusive memories, identities, political imaginaries, and political practices that can help forge a lasting peace out of genocide and war."
The issue focuses on "Genocide and the Kurds" rather than "Genocide in Kurdistan" to emphasize the shifting nature of claims to the land as well as the diversity of peoples that have inhabited it historically, whose presence is still so definitive of the region and its politics. These groups include Yazidis, Christians, Shabak-Shia, Turkomen, and Mandeans, all of whom have been the targets of genocidal violence by IS since 2014.
Much of the research presented points to new sources for and new directions in both Kurdish Studies and Genocide Studies, developing a "Mesopotamian model" of the crime of genocide, which challenges established understandings of genocide as mass murder alone by calling attention to the centrality of displacement, cultural destruction, the undermining of reproductive and biological power, and the subversion of group historical power in genocidal processes in the region.
Taken together, the contributions develop a long-term view of genocide that is much more in line with the concept of genocide developed in Raphael Lemkin's historical studies than the legal definition that was finally agreed up in the Genocide Convention. By demarcating moments of deep connection between past and present, and the shared historical and contemporary experiences of so many different peoples, this issue's contributors show how important a more nuanced and open understanding of genocide is if we are to understand and respond to the dynamics of violence in the Middle East.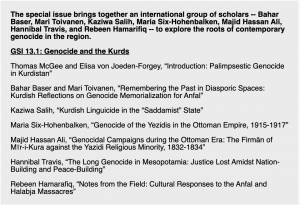 For more information on this issue or the GSI journal visit UTP Online!