September 20, 2023: Yesterday, Azerbaijan launched the final phase of its genocidal campaign against the indigenous Armenian population of the Nagorno-Karabakh Republic (NKR), also known as Artsakh. Since the successful invasion of Nagorno-Karabakh by Azerbaijan and Turkey in 2020 and military defeat of NKR forces and their ally Armenia; Azerbaijan and Turkey have made clear their longstanding intention to remove the Armenian presence from Artsakh and undertaken action after action to achieve this goal. This includes the creation since December 12, 2022, of a human rights crisis by blockading the one remaining route between Armenia and Nagorno-Karabakh, imposing conditions of starvation, medical crisis, and more on the inhabitants – a blockade that the International Court of Justice ordered to end on February 22, 2023.
Yesterday, September 19th, Azerbaijan has shifted from genocide by attrition through the deprivation of basic life-sustaining resources into a direct armed conflict targeting civilians, including children, who have been collectively labelled "terrorists." Without significant help, Armenians in the NKR will be unable to resist this genocidal onslaught. It is painful to witness a genocide unfolding without being able to intervene, and yet we must cry out against the crimes that are being perpetrated in the hope that those who can act to stop them will finally be moved to do so.
The main reason why the situation in Nagorno Karabakh has reached this latest crisis point is that, with each Azerbaijani escalation of the genocidal process, the world community has failed to take the actions required by international law and basic human rights norms to prevent the destruction of a group. It is now up to scholars and other concerned citizens of the world to speak up and hold the United Nations and major powers around the world responsible for preventing this genocide.
As genocide scholars and editors of GSI, we urge our colleagues and leaders in the international community to focus on the events in Azerbaijan in order to raise awareness and condemn the violence and atrocities that are genocidal as the intention is to cleanse Armenians from Nagorno Karabakh.
Please join with us in expressing outrage at the onslaught ongoing in Artsakh/Nagorno Karabakh, one that will only result in the further destruction of culture and property, as well as the loss of life. Please also do whatever you can to help ensure that the Armenian indigenous peoples the region are given the dignity and security required for their survival.
Editors of the Journal Genocide Studies International
Dr. Alex Alvarez, Vice-Chair Academic Advisory Board, Zoryan Institute, Co-Editor Genocide Studies International, Professor of Criminology & Criminal Justice, Northern Arizona University
Dr. Adam Muller, Co-Editor of Genocide Studies International and Director of the Peace and Conflict Studies Department, University of Manitoba
Dr. Jennifer Rich, Co-Editor of Genocide Studies International, Exec. Director of the Rowan Center for the Study of the Holocaust, Genocide, and Human Rights, Director of the MA Program in Holocaust and Genocide Education, and Associate Professor of Sociology at Rowan University
Dr. Henry Theriault, Co-Editor of Genocide Studies International, Past President of the International Association of Genocide Scholars and Associate Vice President for Academic Affairs Worcester State University
International Institute for Genocide and Human Rights Studies (A Division of the Zoryan Institute) Board Members, Faculty Members & Affiliates
Dr. Varouj Aivazian, Chair of the Zoryan Institute's Corporate Board, Professor of Economics, University of Toronto
Dr. Joyce Apsel, Clinical Professor, Liberal Studies, NYU, and President of the Institute for the Study of Genocide
Dr. Stephen Astourian, Associate Adjunct Professor of History at UC Berkeley
Diran Avedian, President, and Founder of Lactopur Inc.
Dr. Talar Chahinian, Co-editor of Diaspora: A Journal of Transnational Studies and Lecturer in the Program for Armenian Studies at University of California Irvine
Atom Egoyan, Award-Winning Canadian Film Director
Federico Gaitan Hairabedian, Lawyer and Co-Founder of the Luisa Hairabedian Foundation, Argentina
Dr. Elisa von Joeden-Forgey, Endowed Chair in Holocaust and Genocide Studies, Keene State College (NH, USA)
Arsinée Khanjian, Canadian actress, director, producer, playwright, and human rights activist
Robert Melson, Professor Emeritus, Purdue University
Megan Reid, Deputy Executive Director of the Zoryan Institute
Dr. Victoria Sanford, Professor of Anthropology, Lehman College
K.M. Greg Sarkissian, Co-Founder and President of the Zoryan Institute
Kate Simola, Program Coordinator of the Zoryan Institute
Sophie Waldron, Outreach Assistant of the Zoryan Institute
Dr. Alan Whitehorn, Professor Emeritus, Royal Military College of Canada
Dr. Andrew Woolford, Professor and Department Head, Sociology & Criminology, University of Manitoba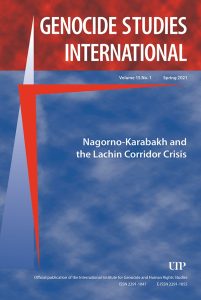 Genocide Studies International, published by the University of Toronto Press and sponsored by the Zoryan Institute, released a special issue of the journal in August 2023 titled, Nagorno-Karabakh and the Lachin Corridor Crisis.
Comprised of 6 scholarly contributions from notable international experts on the region, this issue is intended to raise awareness of this ongoing crisis and to provide critical insight into the risks this blockade poses the ethnic Armenian inhabitants of Artsakh and for the peace and security of the entire region.
Copies of this special issue are available through the Zoryan Institute at a pre-sale price of only $25/book, to distribute widely as part of your lobbying efforts in support of Artsakh.
Click on the button below to order a copy today.
Order Now
Genocide Studies International
In keeping with the objectives of the International Institute for Genocide and Human Rights Studies, Genocide Studies International (GSI) is dedicated to raising knowledge and awareness among scholars, policy makers, and civil society actors by providing a forum for the critical analysis of genocide, human rights, crimes against humanity, and related mass atrocities.
The Zoryan Institute is a non-profit organization that serves the cause of scholarship and public awareness relating to issues of universal human rights, genocide, and diaspora-homeland relations. This is done through the systematic continued efforts of scholars and specialists using a comparative and multidisciplinary approach and in accordance with the highest academic standards. 
To these ends the Institute undertakes and supports multi-disciplinary research, documentation, lectures, seminars, colloquia, and publications.