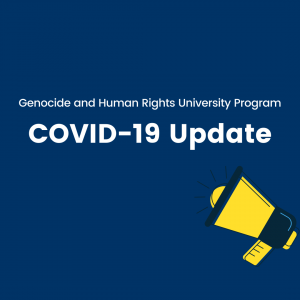 As the COVID-19 pandemic continues to affect Canadian institutions and international travel, the International Institute for Genocide and Human Rights Studies (a division of the Zoryan Institute) has made the difficult decision to cancel the 2020 Genocide and Human Rights University Program hosted at the University of Toronto.
Please stay tuned for online learning opportunities in the coming months. We look forward to hosting the program again in Toronto in 2021.
For students who have already applied to this year's program, we will keep your application documents on file for the 2021 year. If you do not want your application transferred to 2021, please let us know and we will reimburse the $25 application fee through PayPal.
We truly appreciate your patience and understanding during this difficult time. Should you have any questions, please do not hesitate to contact the Institute at admin@genocidestudies.org. 
Sincerely,
The IIGHRS team