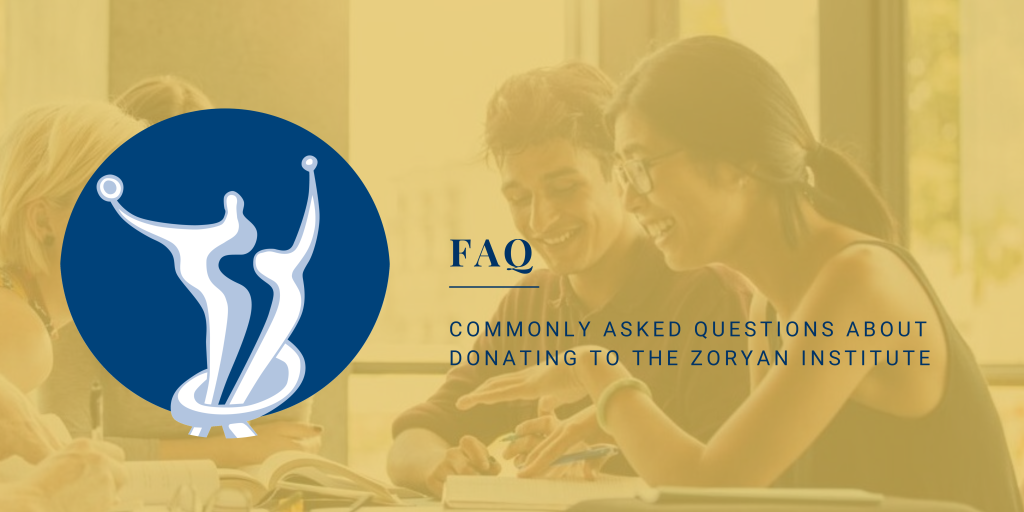 Is the Zoryan Institute a registered charity?
Yes. The Zoryan Institute was established as a registered charity in the United States in 1982, Canada in 1984 and Armenia in 2020. For more information on the Institute, please visit here.
How can I make a donation?
You can make a donation online through the Zoryan Institute website, by mailing a cheque to one of the Zoryan Institute locations (mailing addresses here), and over the phone using Visa, Mastercard or AMEX.
What methods of payment do you accept online?
The Zoryan Institute accepts Visa, Mastercard and AMEX. You do not need a PayPal account to be able to make a donation through the Institute's online donation page.
Will I be issued a tax deductible receipt with my donation?
Yes, all donations over $25 will be issued a tax deductible receipt, which will be sent to you in the mail.
Can I make a recurring donation?
Yes, the Zoryan Institute offers a monthly donation option online. Be sure to check the box "make this my monthly donation" at the checkout.
How will I receive acknowledgement of my donation?
After making your donation, please expect a thank you letter and official tax receipt in the mail within 1-2 weeks.
Can I designate my donation for a specific purpose or program?
Yes. Donations can be designated to specific programs. Please be sure to specify which program you would like to allocate your contribution towards.
How will my donation be used?
Donations will be used towards ongoing educational initiatives, scholarship and research. For a complete list of Zoryan Institute projects and programs, please visit Our Work page.
What is the organization's tax identification number?
Who can I contact if I have any questions about making a donation?