Professor Vahakn N. Dadrian passed away in Geneseo, New York on August 3, 2019. He joined the Zoryan Institute's Academic Board of Directors in 1999 and served since that time as Director of Genocide Research, overseeing some of its most significant projects. With numerous books and articles of his own in many languages, he was widely recognized as the world's greatest authority on the Armenian Genocide.
He influenced the lives of so many scholars in the field. Below are  messages of condolences from scholars, policy makers and longtime friends and supporters.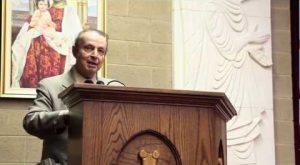 President Armen Sarkissian
"I learned with great sorrow the news on the demise of the renowned scholar, acclaimed researcher of the Armenian Genocide, Honorary Doctor of the RA Academy of Sciences, foreign member of the RA Academy of Sciences, Director of the Genocide Studies at the Zoryan Institute Vahakn Dadrian. Vahakn Dadrian was born ten years after the Armenian Genocide, in Istanbul. It is, probably, no accident that he dedicated the major part of his life to genocide and especially the Armenian Genocide studies, making a great contribution to the internalization and the fight against denial of the Genocide through his valuable monographies and publications. Vahakn Dadrian was a scholar in the broadest sense of the word: he studies mathematics at the Berlin University, history in the University of Vienna, international relations at the University of Zurich, and later, sociology in the University of Chicago. Along with his native Armenian, he mastered modern Turkish and Ottoman languages, as well as German, English, and French and through the research in the archives of various countries he put into a scientific circulation new documents pertinent to the Armenian Genocide. Beside other awards, in 2009 he was bestowed RA Presidential Award for his considerable contribution to the area of the Armenian Genocide Studies.
I knew Doctor Dadrian not only as a brilliant scholar but also as an excellent expert of international relations and a person communication with whom was instructive and gratifying. These recollections and memories of him will always stay bright with those who knew him and appreciated his accomplishments.
I express my sincere condolences to the Dadrian family and friends and share their grief."
Robert Melson 
"He was the pioneer scholar of the Armenian Genocide and a mentor to those of us who followed in his path . We'll miss him, but we're grateful for his legacy."
Frank Chalk
"Vahakn shared his insights freely with new researchers and brought crucial linguistic skills to research on the Armenian genocide. He will be missed by all of us who had the pleasure of working with him."
Pierre Akkelian
"My heartfelt condolences to Vahaken's family members.
I will never forget the professor for his intellect and kindness. He was so Happy and appreciative of the refurbishing work on his omnipresent gold ring."
Payam Akhavan
"I had the pleasure of meeting him on several occasions, and to study his outstanding writings. A great man who made profound contributions to scholarship. May he rest in peace."